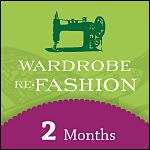 There, I've done it ... I went and took the pledge on Wardrobe Refashion, you know what this means? It means two whole months without buying any clothes, I will have to make my own, either from scratch or by refashioning old clothes ...
Thing is, I do have a mountain of clothes that I thrifted intending
to cut up and sew so, if anything, I will have some space back at the
end of this experiment!
I'm not a fool, I know myself ... I've only signed up for the minimum
time possible ... I wonder how many people take the pledge for life,
fairplay to them, but I suffer from withdrawal symptoms already
just thinking about the two months ahead of me.
Wish me luck and stay tuned for some DIY
or, worst case scenario, some fashion disasters!