It's back! Starlight Spotlight day! I have a whole lot of links to share
with you, amazing photography, more papery crafts,
inventive DIY and some more wonderfulness picked from my Google Reader.
Let's start with these beautiful images of Audrey Hepburn taken by photographer
Bob Willoughby
,
these pictures have been making the rounds on many blogs
but in case you haven't seen them yet here's a link to the
Flick'r set
,
I enjoyed the rest of his photostream just as much, a fascinating insight
into the workings of some of the most iconic movies of our time.

From beautiful people to beautiful art, how else to describe
this Paper Castle
?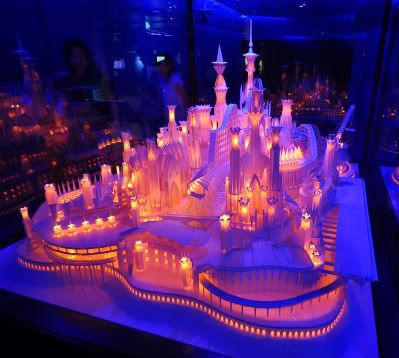 Via
Tokiobling
100 Beautiful paper art creations at
Webdesigner Depot

Julia Brodskaya
I'm fascinated by these paintings by artist
Tyson Roberts
,
at first I thought they where colour studies, but slowly
landscapes emerged in front of my eyes ... I could look
at them forever! I demand a Dublin exhibition!
Stunning images from
Murray Fredericks
thanks to
Concrete and Honey
This little cutie is a
Fennec fox
, a nocturnal fox found
in the North Sahara Desert, it is the only species
of fox that can be kept as a pet, according to wikipedia that is,
reading that they are hard to house-train might discourage most of us
...with that thought let's move on to some more cutie cuteness,
Milk Toof
is the sweetest blog ... follow the adventures of ickle and Lardee!
Some view!
"Go confidently in the direction of your dreams.
Live the life you have imagined."
Henry David Thoreau



Happy Week-end everyone!